The Saudi Sports for All Federation (SFA) is commencing the second phase of its 'Tennis for All' program, a youth-focused project aimed at inspiring young people across the Kingdom to live healthy, active lives via tennis.
Tennis for All's second phase began on 30 April 2023, in collaboration with the Saudi Tennis Federation (STF) and the Ministry of Education (MOE). The program, which is aimed at Saudi nationals and residents – both male and female – between the ages of 6 and 18, provides primary, middle, and secondary school children around the Kingdom with access to tennis instruction and coaching.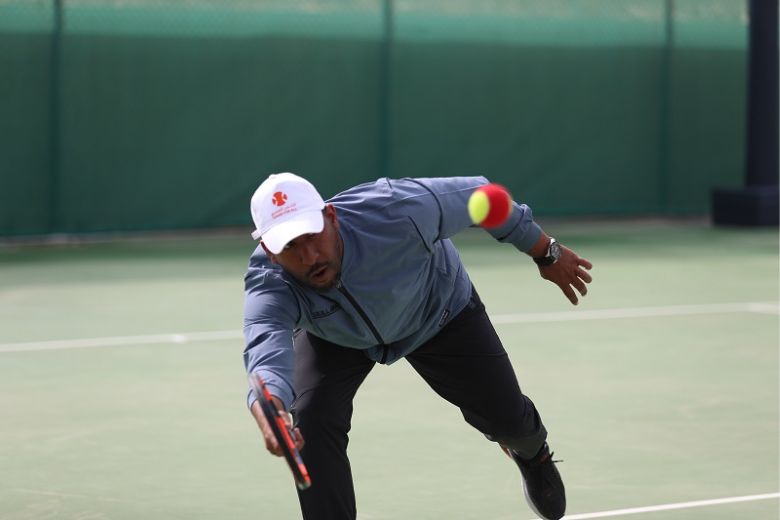 ---
The program is aimed at elementary, middle and secondary school students in Jeddah, Dammam and Riyadh
---
The initiative's second phase focuses on implementing Tennis for All in schools in three of the Kingdom's major cities: Jeddah, Dammam, and Riyadh. Ten schools (five boys' and five girls' schools) will be enrolled in the program in each city, after which the third phase of the initiative will be launched, bringing together 10 schools from all three locations to compete for top honors in a tennis tournament.
Tennis for All has been established to raise awareness of the benefits of playing tennis, contribute to the creation of a flourishing, healthy sports community, and advance school tennis throughout the Kingdom during a six-month period, in accordance with Vision 2030 and the Quality of Life Program.
---
SFA aims to provide tennis coaching to 4,500 male and female students
---
The program intends to achieve these objectives by developing a complete instructional model for school children, guaranteeing that kids of all ages and backgrounds are encouraged to participate in the sport. Tennis for All is also concerned with providing pupils with a way to continue practicing the sport after the program has ended.
The first phase of Tennis for All was launched by SFA, STF and MOE in January 2023, with physical education teachers around the country – selected by MOE – being trained and upskilled in how to play and teach the sport of tennis.
Through the nationwide program, SFA aims to provide tennis coaching to 4,500 male and female students. The coaching will begin with six initial training sessions that intend to provide a global overview of the sport. The best-performing participants will be selected to take part in the next stage of coaching, comprised of ten additional, more specific sessions. The third stage will be an inter-school tournament pitching schools within the same city against one another. The best players from these tournaments will then be invited to participate in a final tournament at the STF Training Centers in Riyadh, Jeddah, and Khobar.
Following the final competition, STF will teach and oversee the program's top performers, providing mentorship and advice to ensure they are well-positioned to compete in official regional, national, and international championships.
In keeping with SFA's mission to bolster the Kingdom's sports infrastructure and provide citizens and residents access to world-class sporting experiences and provisions, Tennis for All underlines the Federation's commitment to creating a greater, healthier Saudi Arabia. The program extends SFA's work to advance community sports and raise physical activity levels.